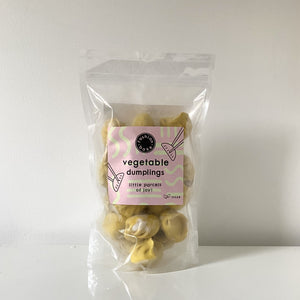 Veggie (VE) dumplings (20)
The veggie dumplings that also happens to be vegan - no soggy veggies here! 
You get 20 dumplings (approx 650g) in a packet. 
Dumplings come frozen with full fool proof cooking instructions.
Best enjoyed with chilli oil!
Please see allergens below. 
CONTAINS: WHEAT, SESAME, SOY, ALLIUMS
*IF YOU HAVE ANY ALLERGIES, PLEASE ADD TO REQUESTED BOX BEFORE CHECK OUT*
Unbelievably tasty
I've been having these for ages, and they were my saviour throughout veganuary 🌱 so tasty and satisfying on their own on as part of a meal- plus super convenient as they are so quick to get ready! Can't get enough of them 😍
INCREDIBLE
After trying the veggie dumplings for the first time today, we are in love! Firstly, they are so easy to prepare, and the instructions are perfectly clear! Secondly, and most importantly, the dumplings are delicious! Will definitely be purchasing again!
Absolutely gorgeous
Loved the dumplings, fresh, tasty, well presented and Jess is lovely!
Clear and easy cooking instructions.
DELICIOUS!
The dumplings were incredible - so fresh and tasty, beautifully packaged and with clear instructions for cooking. We shall definitely be back for more! Thank you Jess!
Delicious
Absolutely beautiful and so lovingly made. The baos were huge and so beautiful..